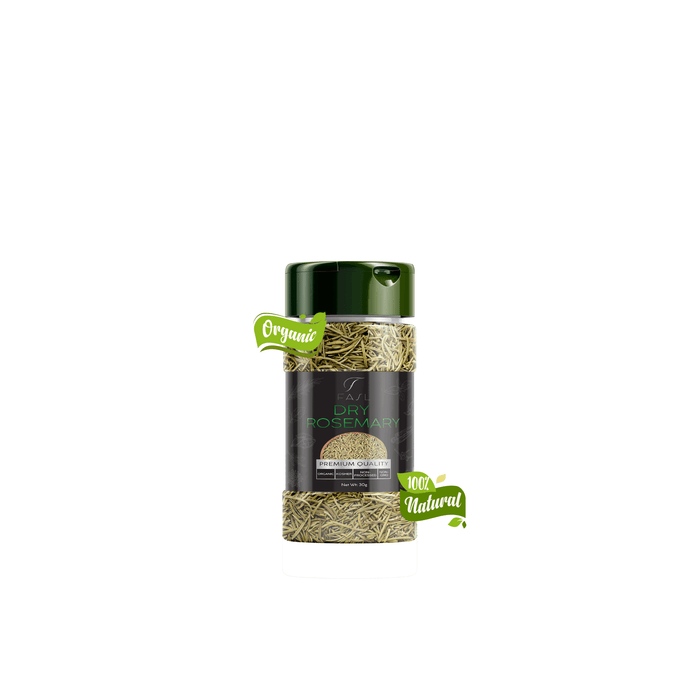 Original price
$6.99
-
Original price
$6.99
Rosemary is a rich source of antioxidants and anti-inflammatory compounds, that help boosts the immune system, improve blood circulation, and aid in digestion. Use FASL Dried Rosemary as a seasoning in a variety of dishes, such as soups, casseroles, salads, and stews. It is often used to season meats, especially lamb, pork, and chicken. FASL Dried Rosemary can also be added to bread for a rich and aromatic flavor!
PREMIUM QUALITY DRIED ROSEMARY LEAVES: Fasl premium quality rosemary spice harvested and selected from best quality plants and packed fresh. The package contains no artificial additives, preservatives, or sugar. Rosemary is an aromatic herb native to the Mediterranean region. The flavor of rosemary has been described as piney, peppery, lemony, and woodsy. It has a warm, bitter flavor and brings flavor and aroma to a variety of foods.
COMMON USES OF ROSEMARY: Rosemary is an adaptable herb that compliments a wide range of meats and vegetables. Its adaptability allows it to be used in a wide range of foods, from soups to bread. Rosemary pairs well with other Mediterranean herbs like thyme, marjoram, and oregano in sauces. It has notes of evergreen, citrus, lavender, sage, and mint.
BENEFICIAL & RICH IN CALCIUM, IRON, AND VITAMIN A, C: Rosemary is well-known not just for its flavor and aroma, but also for its numerous advantages for our bodies. The scent of rosemary has been related to improved mood, mental clarity, and stress relief. Dried Rosemary Leaves are a good source of iron, calcium, and vitamins A, C, and B-6.
YOUR HAPPINESS REALLY MATTERS FOR US: Our premium products are packaged in a convenient long-lasting bottle for easy storage and use. For optimum freshness, store in a cool, dry location. If the products you received are faulty or you are not satisfied, please contact us as soon as possible. We'll do our best and make you happy.