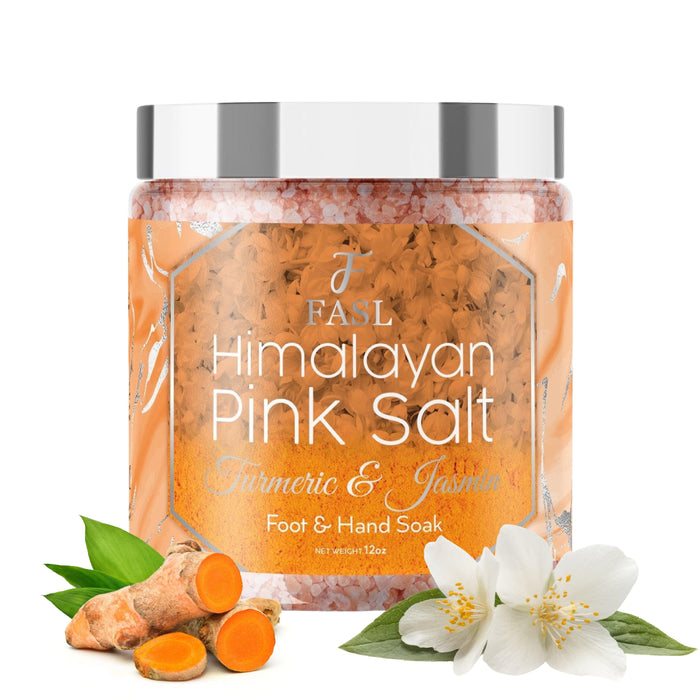 Original price
$19.99
-
Original price
$19.99
Indulge in the ultimate pampering experience with Fasls Himalayan Pink Salt Hand and Foot Soak. Infused with 100% natural jasmine and turmeric essential oils, this exfoliating soak will leave your skin feeling rejuvenated and refreshed. So kick off your shoes, sink into a warm bath, and let the healing powers of pink Himalayan salts work their magic on your tired feet and hands
Indulge in the luxurious Fasl Himalayan Pink Salt Hand and Foot Soak, meticulously crafted with 100% natural jasmine and turmeric essential oils. Immerse yourself in a nourishing bath of pink Himalayan salts to rejuvenate your skin while providing ultimate relaxation for your hands and feet. The exfoliating properties of this soak will leave your skin feeling incredibly soft, supple, and revitalized. Pamper yourself with this exquisite product that promises to provide an invigorating sensory experience like no other!
Relieve tired and achy feet with Fasl Himalayan Pink Salt Hand and Foot Soak
Enjoy the natural exfoliating properties of pink Himalayan salts that leave your skin feeling soft and smooth
Infused with 100% natural jasmin and turmeric essential oils, this soak soothes your senses while nourishing your skin
Pamper yourself after a long day with Fasl's luxurious hand and foot soak for an athome spa experience like no other
Fasl Pink Salt Hand and Foot soak can also nourish cracked, dry skin, relieve stiff joints and muscles, often associated with Repetitive Strain Injury (RSI) and soften nails before manicures and pedicures. Our blend will also leave your skin beautifully conditioned.
Just pour our Pink Salt Blend into a bowl of warm water and soak for 15 minutes. You can feel the difference.
Benefits of a foot soak
Footbaths are great for helping to relieve pains and aches, excessive perspiration, revive tired and burning feet (and a tired body) and a great way to pamper your hard-working, and often forgotten feet.
Benefits of a hand soak
Although footbaths are far more general than a hand bath, they also offer a wide variety of benefits to your often abused hands. A good soak will also help with pain and pains, ease cramps and are also a good way to give your hands some extra attention.
PINK HIMALAYAN SALTS: This calming salt blend softens and rejuvenates all bodies. Filled with hand-harvested salt crystals from the Himalayans, the soak contains nourishing vitamins and minerals like magnesium, potassium, sulfur, zinc, and more.
PINK SALT with Jasmin and Turmeric Essential Oils: Himalayan pink salt is renowned for its detoxifying qualities. It draws out heavy metals and toxins from the body. How does it detox skin? By driving out grime, dirt, pollution, and bacteria from deep within the pores. This enables the skin to remain clean and pure, which prevents breakouts.
EXFOLIATE: Scrubs off dirt and dead cells and keep skin silky soft. Balances skin pH levels. 
NATURAL AND REFRESHING: By opting for natural organic skincare, you are choosing to nourish your skin with the healthiest available ingredients free from chemicals. Our plant-based ingredients, rich in phytonutrients, are associated with an array of health benefits. Our versatile oil is made from natural, organic, and vegan ingredients for a safe yet effective addition to your skin care regimen. Cruelty-Free, Free of parabens, phthalates, alcohol, and harmful chemicals.