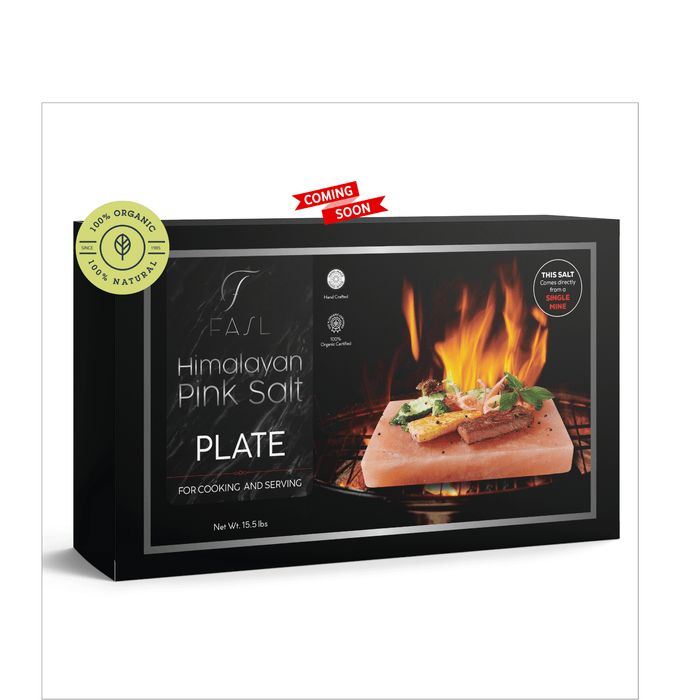 Sold out
Original price
$39.99
-
Original price
$39.99
Fasl Natural Himalayan Salt Block Cooking Plate 
Himalayan Pink Salt And Garlic Online
Package Includes 100% Natural Himalayan Salt Cooking Block & Metal Holder. Kosher Food Grade Natural Himalayan Salt.
Salty Flavor Extra Sizzle: Add extra sizzling salty flavor Taste to all your meals Meat, Fish, Vegetables, seafood and more.. Enjoy the naturally delicious taste of Himalayan Salt with the Himalayan Salt Block and Salt Block Holder set. Himalayan Salt Blocks impart their flavor to food, making them great for cooking directly on your stovetop or BBQ Grill or in the refrigerator, Then use the Holder to transport your Salt Block to the table safely.
High-Quality Metal Tray: The Salt Block Holder is made out of a high-quality tray that provides the sturdy support and protection to extend your Salt Block's life, It works as a frame to keep the salt slab pieces together, so you can keep on grilling, The Quality Holder Extends Life of Salt rock Plate through easy handling.
Excellent Serving Plate Presentation: Himalayan Salt's natural pink crystals also enhance food presentation, making it suitable for serving chilled food. Place Salt Block in the Holder, refrigerate for an hour or two and use it as a serving plate. Whether hot or cold, Himalayan Salt tiles hold temperatures effectively (up to 500°F). Impress your guests and yourself with an all-natural serving dish.
Simple & Easy to clean: Unlike all those hard-to-clean cutting boards, given the salt block's natural properties the salt disinfects itself and is cleaned by simply wiping it with a wet cloth, And letting the air dry it.