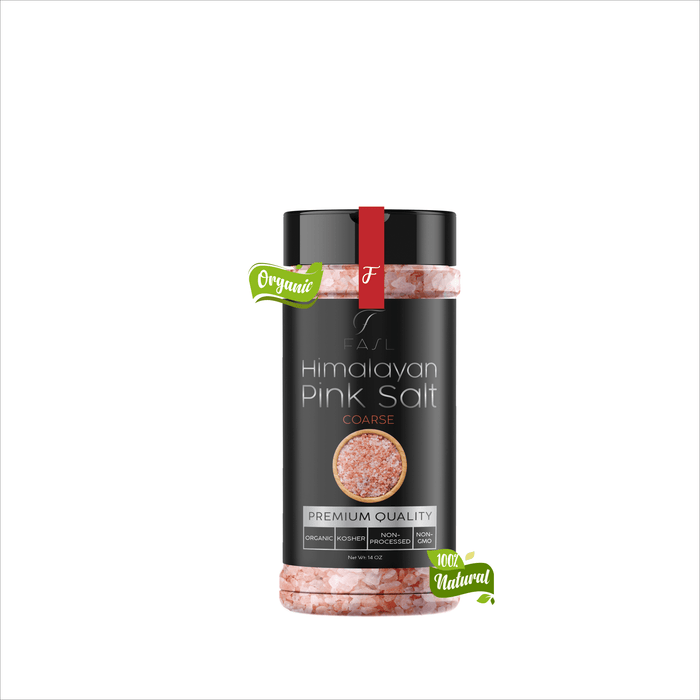 Original price
$9.99
-
Original price
$9.99
Organic Pink Himalayan Coarse Salt is often thought to be much healthier than regular table salt. Mined in the foothills of the Himalayas, Himalayan salt contains dozens of trace minerals that give it its rosy hue. Himalayan salt contains more than 80 minerals and elements, including potassium, iron, and calcium. All of these minerals aid our body's natural detoxification process and promote the removal of bacteria. 

Organic Pink Himalayan Coarse Salt Online
It elevates many different kinds of foods, including meats, rice, vegetables, potatoes, and soup. Nothing beats steaks, pretzels, and stews flavored with Himalayan Pink Salt. Flavors are brought out to a totally different level! 
HIMALAYAN PINK SALT: Himalayan Pink Salt is used for seasoning both meat and vegetables. Pink salt with roasted garlic adds a rich, deep flavor to any dish
PRIME QUALITY: Fasl's products have no artificial colors, preservatives, fillers, anti-caking agents or MSG. it is free from all impurities
NATURAL AND CERTIFIED: All Fasl Spices are naturally grown, OU kosher certified, Halal, Vegan-friendly and Non-GMO
AVAILABLE FLAVORS: Himalayan Pink Salt is available in many flavors. Some of those flavors are Pink Salt with Rosemary, Garlic, Turmeric and Red Pepper
CUSTOMER SATISFACTION: Quality is our passion. We ensure a 100% money-back guarantee to our customers within 15-days of purchase