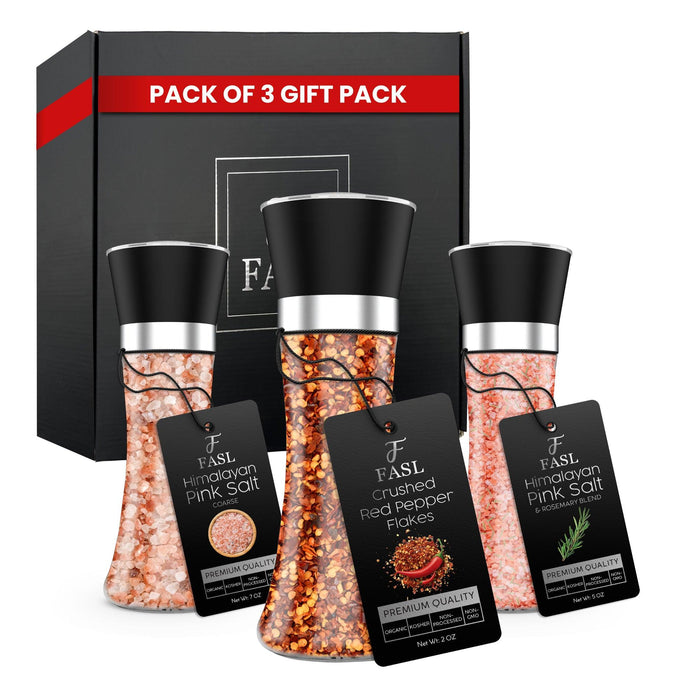 Original price
$64.99
-
Original price
$64.99
1x 𝑻𝒉𝒆 𝑭𝒊𝒏𝒆𝒔𝒕 𝑸𝒖𝒂𝒍𝒊𝒕𝒚 𝑯𝒊𝒎𝒂𝒍𝒂𝒚𝒂𝒏 𝑷𝒊𝒏𝒌 𝑺𝒂𝒍𝒕: Our pink salt is mined in one of the purest regions in the world. It is free from impurities and contains a high percentage of trace minerals. Our salt is naturally coarse-grained and unrefined, making it a healthier alternative to refined table salt.
1x 𝑪𝒓𝒖𝒔𝒉𝒆𝒅 𝑹𝒆𝒅 𝑷𝒆𝒑𝒑𝒆𝒓 𝑭𝒍𝒂𝒌𝒆𝒔: Our crushed red pepper flakes are made from high-quality, dried red chili peppers. They add a spicy kick to your dishes and can be used to enhance the flavor of pasta, salads, soups, stews, and more.
1x 𝑯𝒊𝒎𝒂𝒍𝒂𝒚𝒂𝒏 𝑷𝒊𝒏𝒌 𝑺𝒂𝒍𝒕 - 𝑹𝒐𝒔𝒆𝒎𝒂𝒓𝒚 𝑩𝒍𝒆𝒏𝒅: Our Himalayan Pink Salt - Rosemary Blend is a unique combination of premium Himalayan Pink Salt and rosemary. The rosemary adds a fresh, earthy scent and flavor to your dishes, making them perfect for savory dishes, grilled meats, and roasted vegetables.

𝑽𝒆𝒓𝒔𝒂𝒕𝒊𝒍𝒆 𝒂𝒏𝒅 𝑪𝒐𝒏𝒗𝒆𝒏𝒊𝒆𝒏𝒕: Our seasoning combo is perfect for both amateur and professional chefs. It can be used in a variety of dishes and is ideal for seasoning meat, fish, vegetables, pasta, rice, and salads. The convenient packaging allows you to use just the right amount of seasoning without any wastage.

𝑨𝒍𝒍-𝑵𝒂𝒕𝒖𝒓𝒂𝒍 𝒂𝒏𝒅 𝑵𝒐𝒏-𝑮𝑴𝑶: Our seasoning combo is made from all-natural and non-GMO ingredients. We believe in providing wholesome and healthy spices to our customers, and our products are free from artificial additives, preservatives, and chemicals.